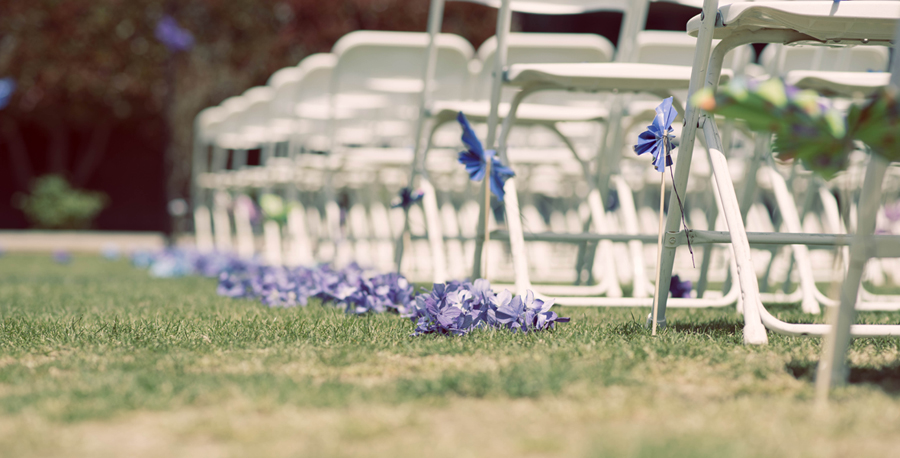 Weddings are one of the most notable events in a man and a woman's life. As women, we dream about our wedding day for years; we plan everything from our color palette to bouquet arrangement, cake and food menu, to our dress and guest list. There are so many particulars that go into large event planning that it is very challenging for most brides to achieve her true "dream" wedding.
So much of what goes into preparing and delivering an event on such a grand scale as a wedding is handled by professionals. Florists, bakers, catering services, photography, and even wedding planners are often required to support the bride and groom on their "big day." Due to the fact that many couples require their wedding to fit within a budget many of these services are considered "luxuries" that they simply cannot afford.
I was married quite young, a few days shy of 21. It was a beautiful May day and I was excited to marry the man of my dreams. Our wedding was held in the beautiful backyard of a generous friend, with the Kern River creating a beautiful ambiance and soundscape to our ceremony. We saved money on a costly venue, however, we then had to individually bring items to "build" a wedding. Tables, chairs, linens, centerpieces, catering, and music all had to be rented or hired.
We were on a strict budget $2500 or less from beginning to end…so we did what most couples must, we figured out ways that we could incorporate niceties for less. My dress was on sale ($220 out the door), we didn't serve alcohol, the whimsical mad-hatter cake which I absolutely loved was fairly small and would only have served half of our 200 guests so we had a sheet cake to ensure every invitee enjoyed a slice. Our food was simple and buffet style, instead of having a photo booth we placed disposable cameras on the guest tables. Both our photographer and D.J. were our friends, they did wonderfully, but were generous enough to cut us a deal on prices.
Ultimately, our wedding was beautiful. I married my best friend with most of our family and friends as witnesses. The trees that surrounded our ceremony began to shed blossoms as if they had been queued as I took my long stroll with my father down the grassy aisle. And we stayed within our budget!
At every wedding I have attended in the 8 years since my wedding, I have found many things that I would have loved to do differently if I could do it all over again. Marrying the same man would be one of the few things that would remain the same. I would have loved to have felt that money was of no significance. A beach wedding venue, perhaps Ventura or Malibu would have been ideal. It would have been amazing to have had a professional hairstylist and makeup artist as well as a magnificent cake that guests would never forget. I would have loved to hire a florist to create memorable arrangements, instead of the simple and forgetful bouquets that we assembled with bulk ordered roses.
Photography, however, is one of the only daily reminders of our wedding that I encounter. In various rooms in our home wedding photographs are displayed for all to gaze upon. Choosing the best photographer for a wedding or important life event is imperative. The cake gets eaten, makeup gets washed away and the memories fade. Pictures remain. With a glance at my favorite wedding picture, I am reminded how I felt on the rustic rope bridge with my handsome new husband holding my waist as we share a lingering embrace on our wedding day almost at an end. I understand that as though I wish that I could have changed many elements of my wedding, the most important artifact of my wedding were the photographs that decorate my home.
Realistically, most brides would admit to having a wedding day budget. I would advise any bride to cut corners where she can if they must be economical, but save up for the best wedding photographer that they could afford. Research and interview wedding photographers, find one that shares your interests and understands your style. They will be following you around throughout your day and will be one of the only hired professionals that a bride and groom will be in contact with after the wedding. Hire a professional! After all, photographs remain.